If your roof springs a leak, you'll need to reach out to a roof repair professional as quickly as possible. However, there are some other steps that you should take even before they arrive to save the day. The first thing to do is place buckets and other similar items under where the water is dripping to keep the water damage from advancing. You can get creative here by grabbing garbage cans, large bowls, pots and pans, and anything else that will contain the liquid. If the leak is small enough, you can even use towels, but be sure to swap them out as they become saturated.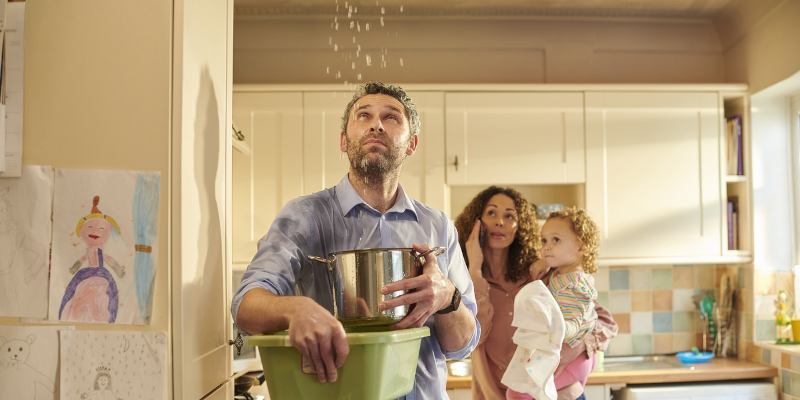 Next, you'll want to move anything that is in the area where the water is running into your home. If some things are too large and heavy to move, then cover them with a tarp or something else that is waterproof.
If the leak is coming through the ceiling and you notice that it is bulging down, it indicates that there is a buildup of water above the ceiling. Rather than wait for it to further accumulate, it is best to create a hole so the water can drain into the bucket you have waiting underneath. Be sure you have a large enough one or several so you can swap them out quickly to capture all the water.
Once the immediate problem of preventing advanced water damage has been resolved, now is the time to take pictures that you can use during the insurance claim if the adjuster requires documentation to complete your claim. By the time you get through all these tasks, you should be hearing a knock on the door or your doorbell ringing to alert you that your roof repair team has arrived. Now you can sit back and relax and let them assess the situation and provide you with an estimate to restore your roof.
If you are in need of roof repair at your Concord or Charlotte, North Carolina home, reach out to us at Reynolds Roofing. We have been a trusted source for shingle roofing services for years and look forward to helping you get your home back to normal after your roof springs a leak.