Thanks for visiting our website! We're promoting specials on some of our roofing services on this page. Please check back later if you can't find something you like.
Book Today Before Our Calendar is Full – Use Our Contact Form to Start!
If you need roofing services and want to make sure you get the best roofers in town for the job, make sure to book with us at Reynolds Roofing!
CALL OR USE OUR CONTACT FORM TO BOOK YOUR APPOINTMENT!
No matter what kind of recent storm caused roof damage at your home – wind, hail, or rain – at Reynolds Roofing, we are here to provide the services you need.
IS IT TIME TO GET YOUR ROOFS REPAIRED OR REPLACED? CONTACT US TODAY!
Do you need a roofing contractor in Concord, NC? Does your roof need replacing? Let us help!
DO YOU NEED A NEW ROOF?
When you need a new roof, waiting can put your home and its contents at risk. Luckily, at Reynolds Roofing, we offer financing solutions to make the investment easier on your wallet.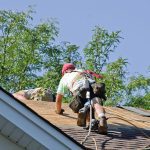 Get 10% Off Seamless Gutters with a Full Roof Replacement!
Does your home need a new roof? Have us replace it and we'll take 10% off new seamless gutters!